Costs * Reservations * Set up Requirements

Every animal show is different and everyone's show is unique. The final cost will depend directly on what exactly you want. CUSTOM shows are also available. All booking is done over the phone. All show are reserved with a 50% down on-refundable deposit.

To Book: (773)575-4990
Email: Erinsfarm14@gmail.com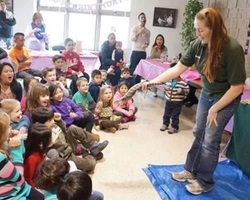 1.)The BASIC Show is an approximately 1 hour show with about 15-20 different creatures. This show includes frogs or other amphibians, 5-6 different lizards, 3-4 different snakes, bunnies, chinchilla, a talking parrot, a duck, rooster, spider, giant tortoise & many more! Its the perfect mix of creatures & this show is perfect for smaller groups like birthdays, classrooms & libraries. This show is more structured with one animal as the focus at a time with the guests sitting and watching the program.

Cost starts at $325. 15-20 animals (transport fee not included)
(Smaller show available~ 10 animals-30/40 mins $250 + T)

---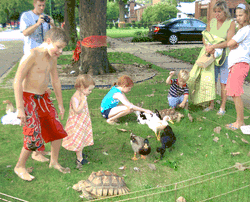 2.)The Basic Animal Show + Extra Play Time
This combo show is the most popular show for birthdays & block parties, and includes a great assortment of fun animals.
PLUS ~ 30 extra minutes of extra play time!
This show has all the animals in the BASIC show PLUS MORE!

After the instructional show, extra play time is set up in the form of a small play pen or animal stations on tables. This has a more relaxed & casual feel of free play & interaction time where the kids get to walk around & spend time with which ever things from the show were their favorite. "Extra Play Time" can be added to any show package @ + $50/30 minutes.

---
3.)LARGER SHOWS
Available Larger shows are the :
Basic Plus $375
Large Show $425
Extra Large show $475
(not including transport fees)
Each additional large upgrade is adding 2-3 extra animals or often larger upgrades of the existing animals to our Basic Show Program.
This is perfect for people wanting a bit more animals or having us as the entertainment for very large groups.
Additional animals that can be added include : a peacock, turkey, Macaw parrot, 4 ft monitor lizards, patagonian Cavy, goat, sheep, XL tortoise, XL snake, pot bellied pig, alligator & more! Call for details & current animal availability list.

---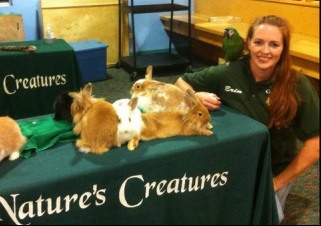 4.)Bunny Party!
Bunnies Bunnies Bunnies! This is a fantastic idea for toddler shows with limited attention spans. For those little ones that just love soft things! Just come sit in the bunny pen!
Have a mini bunny petting zoo set up for your party with 5-10 soft friendly adult and baby bunnies, a few ducks, chicken and giant tortoises! This set up includes either table top stations to walk up to or a small fenced "play pen" where kids can come and go as they please by the hour.
$225 first hour/discounted additional time.
(not including transport fees)

---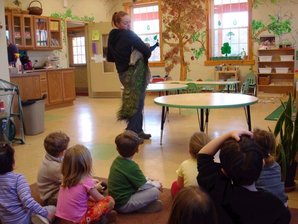 5.) Bird Show
Discover fascinating avians in Chicagolands only bird show! Learn the clues that birds give us by the shapes of their beak & feet. Laugh at the funny sounds that they make & funny behaviors that they do. Learn about how feathers work and what their special jobs are. Find out which bird in the show is he best parent & who is the worst. Birds are unusually interesting animals with funny quirks about them.
From parrots to doves, peacocks to guinea hens ~ You will love this assortment of feathered friends!

$325/hour (not including transport fees)

---
6.) Reptile Show
Just want to focus on things with scales? Maybe a reptile only show is for you! Snakes tortoises, lizards galore!

You'll be covered in snakes in a scaled dream!
$325/ hour (+ transport) Main, $250+T small (10)


---

7.)Amphibian Show ~ this awesome show of small creatures features tree frogs, pond frogs, poison frogs (not for touching) toads, salamanders, sirens, axolotyls, caecilian worms & more! $325/hour (+ transport)


---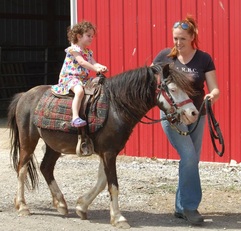 8.) Pony Party!
Have one of our cute ponies visit your birthday party or event for some individual riding time. One of our kid friendly & safe ponies can come to your party or school for a fun lesson in horsemanship & then pony rides!

$225 for the first 60 minutes (+ travel).
Each additional hour $75.

9.)Ultimate Birthday Party ~ for a full day of animal fun! Have the 1 hour Basic animal show +1 hour pony rides after! 2 hour total. Additional time or pony is extra.
$500 (plus transport fee) ($550 value so save $50! )


---
---
10.) Need a place for your Party? ~ Consider a Farm Party at "Erins Farm" Visit www.erinsfarm.net

GENERAL INFORMATION
Payment Methods Payment is due at the date & time of the show. Cash, Check and all major credit cards are accepted. Credit cards must be approved before show date. A $50% non-refundable deposit is required at booking all shows & Pony Parties. There is a $35 fee for checks with insufficient funds. There is a $35 late fee for school checks that are 30 days past due. Fee of $10 for credit cards used for balances at the scene.

Transport Expense
All shows will have to add a transport charge to the show type that they choose. This is determined after show site address is determined in miles. For example, most estimated costs into downtown Chicago are approx $35-40. North side of the city & north suburbs are approx $50. South side of Chicago $30-35, far south Peotone/Mokena $30-35, Joliet/Essix $40-45, Bourbonnais $50, Indiana $45+. Wisconsin $75+. Transport Expense for shows including the pony is slightly higher (approx ad $25) due to hauling a trailer. Not all animals can cross state lines.

Parking nearby is requested and required for downtown shows. If the only parking available is metered or garage paid parking is required, any additional fees are added to show cost. Please reserve a spot in front of your location, or in your garage for downtown shows where parking is difficult, as additional excessive time used to find parking can cut into show time.

Animal Weather Requirements with the COLD and HEAT
Due to the health & safety requirements of some of the creatures, outdoor parties may be postponed & have to move indoors if the temperature is not at least 60 degrees. Alternative indoor areas should be considered when booking during times of questionable weather. Garages, basements & screened porches can work great when the weather changes suddenly as long as they are warm enough.

Summer outdoor shows with extreme heat, requires a very shady area to be available so that the animals can stay cool while awaiting their turn. Sometimes tents to not provide the adequate shade or heat relief, so indoor air conditioned areas may be required as an alternative.
Winter indoor shows are still very popular! A tarp is brought to protect your carpet or floor from any animal droppings. Heated garages and basements work just fine too if you don't want the critters in the nice part of your house!
Rain & other Weather issues
We do not cancel our programs due to weather issues such as rain. We come prepared to do our program rain for shine, inside or outside. We do not cancel or give refunds for bad weather days. Have an alternative indoor area available if it looks like rain on your show day. No special consideration for outdoor expo events.

Summer weekends & times of good weather sell out fast ~ we recommend booking 1 month in advance.

Business / Animal Rentals
Need a draw for your unique business at a trade show or advertisement? Animals at your table will help draw in n the crowds! Call for details about having your own assortment of animals on display or to help with your business goals!
Need a particular animal for your event? Call for a quote to have a particular animal on display.

Animal Show or Donation
Having a fundraiser? Purchase a show to donate to a fundraiser or silent auction!
Contact/Booking: call (773)575-4990
Email: Erinsfarm14@gmail.com